Multi-cloud environments offer significant business benefits from increasing agility to improving efficiency. The challenge, however, is that each cloud sits in an isolated silo with its own development and operating model, taxonomy, services, APIs and management tools. This lack of consistency across clouds forces companies to manage their multi-cloud environments through a patchwork of off-the-shelf, custom-built and native cloud service provider tools, which often require specialized developer and operator teams and skill sets to use. The lack of consistency across clouds also increases security risks.
Early on, VMware recognized the need to unify cloud environments. That's why we created VMware Cross-Cloud services, our portfolio of services for application development, cloud management, cloud and edge infrastructure, security and networking, and Anywhere Workspace solutions. These services are built on a seamless abstraction layer that spans clouds, enabling organizations to build, deploy, run, manage, secure and access apps and infrastructure in a consistent way.
Understanding Multi-Cloud Services
VMware and other software vendors have seen the same industry challenges of multi-cloud environments, and in response have released services to address various aspects of these challenges. For instance, earlier this year VMware CTO Kit Colbert discussed this very issue with the head of strategic partnerships at Snowflake, which is tackling the issue of managing data in a multi-cloud environment.
Multi-cloud services is our proposed nomenclature to address comprehensive multi-cloud challenges. As we define it, a multi-cloud service provides a consistent API, object model, identity management and other core functions across clouds, and it runs in one or more of the following scenarios: 
On a single cloud but supports interactions with at least two different clouds.
On multiple clouds and supports interactions with at least two different clouds.
On any cloud or edge, even in disconnected mode, and basic operations are fully automated.
VMware sees five categories of multi-cloud services: application services, infrastructure services, security services, end-user services and data plane services. These are broad categories, and over time we expect that our industry, collectively, will define more granular service categories as well as entirely new services.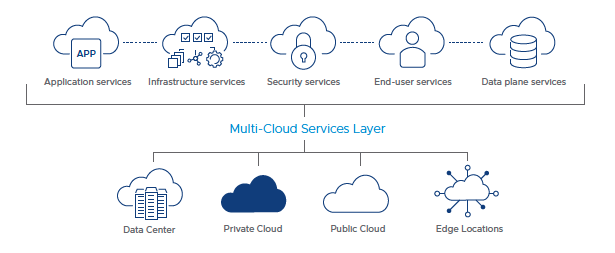 VMWare
In the multi-cloud services model, data centers, private clouds, public clouds and edge locations are verticals, and multi-cloud services are horizontals, providing functionality across these locations. These horizontal capabilities integrate with and complement the native services of each cloud while providing the consistency and standardization that development, operations and security teams need.
Benefits of Multi-Cloud Services
Organizations can use multi-cloud services to abstract and standardize cloud infrastructure and operations, development and security capabilities into one platform to reduce or eliminate the complexity of individually building or consuming the equivalent native services from multiple clouds. Some of the benefits include:
The business can realize quicker time to market and quantifiable improvements in app performance, efficiency and security. 
Operators can deploy, manage and monitor apps and container infrastructure in the same way for every cloud. This can minimize the need for specialized teams and skill sets when working with specific clouds.
Developers can write apps using their preferred framework without worrying about the infrastructure or the cloud on which it runs.
Security teams can apply policies consistently to every cloud and app. 
Companies in regulated industries can meet their unique sovereign cloud requirements and maintain jurisdictional control while achieving cutting-edge transformation at scale.
Learn More About Multi-Cloud Services
VMware
Go to Source of this post
Author Of this post:
Title Of post: The Era of Multi-Cloud Services Has Arrived
Author Link: {authorlink}